Dollywood won five "best of the best" awards, ranked as finalists in five additional categories and landed two coasters on Amusement Today's annual Best Steel and Best Wooden Coaster lists at the magazine's prestigious 2013 Golden Ticket Awards on Saturday, Sept. 7.
The awards, presented by trade publication Amusement Today, were handed out at Santa Cruz Beach Boardwalk, this year's Golden Ticket Awards host park.
"News of our five 2013 Golden Ticket Awards just absolutely blows me away," said Dolly Parton. "I'm absolutely humbled but truly so very proud of my great team at The Dollywood Company. Having just announced plans for next year's FireChaser Express at Dollywood and my new Dollywood's DreamMore Resort in 2015, all of these Golden Ticket Awards let me know that we're on the right path to expanding our family vacation destination so that more and more folks can experience what our industry has so kindly and sweetly honored among the best our business has to offer. Thank you from the very bottom of this country girl's heart!"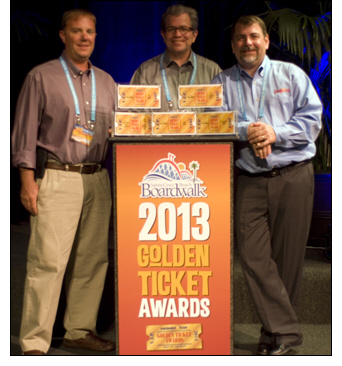 Dollywood's five Golden Ticket Awards include top honors in three categories, including a first-time win for Dollywood's Splash Country, and repeats in four categories:
• Best New Ride for 2013 (Waterpark) for Dollywood's Splash Country's RiverRush water coaster, Tennessee's first and only;

• Best Food, (a tie with Knoebels Amusement Resort);

• Friendliest park, a second consecutive win in this category and once again besting 13-time winner Holiday World;

• Best Shows, Dollywood's fifth consecutive win in this category;

• Best Christmas Event, Dollywood's sixth consecutive trophy for this event.
Dollywood also ranked in five additional categories:
• Best Park, fourth place;

• Best Waterpark for Dollywood's Splash Country, fourth place;

• Cleanest Park, second place;

• Best Water Ride for Dollywood's Mountain Slidewinder; fifth place;

• Best Landscaping, fifth place.
Dollywood's Wild Eagle coaster ranked number 24 on Amusement Today's annual Top 50 Best Steel Coaster list while the park's Thunderhead wooden coaster placed fifth on the Top 50 Best Wooden Coaster rankings.
Calculated from an international poll conducted by Amusement Today, the industry's leading trade publication, the Golden Ticket Awards are the results of a detailed survey sent to a database of experienced and well-traveled amusement park fans around the world in balanced geographical regions. Voters are asked to rate the "best" in 25 categories such as amusement parks, roller coasters, water rides, shows, landscaping and Halloween and Christmas events.
The Golden Ticket Awards are the most sought after awards in the business of amusements and attractions. The awards have become the subject of much discussion by park aficionados the world over and garnered mentions in such notable media outlets as USA TODAY and the Chicago Tribune, and by the late radio newsman Paul Harvey. The awards also were the topic of a one-hour Travel Channel documentary.
Dollywood was recognized in 2010 at the International Association of Amusement Parks & Attractions with the Applause Award in recognition of a park whose management, operations and creative accomplishments have inspired the industry with its foresight, originality and sound business development.
Photo: (L-to-R) Dollywood's Splash Country General Manager Mike Brown, Dollywood Director of Entertainment Paul T. Couch, a d Dollywood Director of PR Pete Owens pick up Dollywood's five Golden Ticket Awards at ceremonies on Saturday, Sept. 7.
Article from http://newsmakeralert.com/Dollywood-091213.html

About Dollywood
Based in the picturesque Great Smoky Mountains, Dollywood is a 150-acre family adventure park which operates nine months a year (late March through early January) and offers more than 40 rides and attractions; award-winning live entertainment featuring country, bluegrass, gospel and mountain music; a dozen crafters authentic to the East Tennessee region, and Wild Eagle, the country's first wing coaster. A family-friendly vacation destination, Dollywood also includes the 35-acre Dollywood's Splash Country, voted America's "Must-See Waterpark." Dollywood offers all-inclusive vacation planning with a variety of overnight lodging options. The Dollywood Company recently announced plans for the new dual-launch FireChaser Express, opening in 2014, and Dollywood's DreamMore Resort, a 300-room property slated to open in 2015. For more information, call 1-800-DOLLYWOOD.
Be sure to check out all of our vacation guides for planning your Smoky Mountain getaway.  You can also follow us on Facebook and Instagram for the latest area information!